Filed under General, Interest, Science
This is it. No, really – according to Reuters, and the show that aired on Nat Geo some three weeks ago. The show revealed the work of Richard Freund, a professor at the University of Hartford, Conn., and his international team of Atlantis-seekers.
You will be wondering where Atlantis truly is. Throughout history there has been speculation that it was somewhere near Southern Spain. The Google Earth rumor placed it 600 miles west of the Canary Islands–off the west coast of Africa.
Using satellite photos, Professor Freunds and his freunds say they've found the remains of a city, just north of Cadiz in Spain. They say that it has the multiringed characteristics that many associate with the legendary Atlantis. And they say that it was wiped out by a tsunami.
The researchers spent two years using a variety of technological tools–deep-ground radar and digital mapping, for example–to locate their nirvana.
Freund told Reuters that, though he can't know for sure (yet) whether this is the lost city, there is some hope. "We found something that no one else has ever seen before, which gives it a layer of credibility, especially for archeology, that makes a lot more sense," he said.
Freund believes that the residents of Atlantis managed to escape the tsunami's worst and created more Atlantis-type settlements in the central regions of Spain. He bases this on his discovery of several more so-called memorial cities 150 miles inland from what he now believes might be the original Atlantis.
Of course, much of this research team's claim to fame will depend on whether it can match its discovery of these geological formations with descriptions that Plato left behind some 2,600 years ago.
Plato, you'll recall, described Atlantis as having been wiped out overnight. He also called it a naval power and "an island situated in front of the straits which are by you called the Pillars of Hercules." These pillars are believed to have referred to the Straits of Gibraltar, a place where, these days, if you land by plane, it then has to cross a car-lined street before taking you to the gate.
Source: CNet
Tags: Atlantis
Filed under Interest, Youtube/Vimeo/Videos
Incredible video!
Note: watch until the end for a look behind the scenes at how the video was made. The secret to the accuracy of their coin placement turns out to be a projector shining blue and green squares, which they turn off before taking the frame that goes into the video.
The simulated movement of the coins on a black background look just like an old-school black-and-white video game, at least until they turn into Super Mario Bros. and then faux 3D.
Tags: stop-motion
Filed under Interest, Visual Graphics & Images
These photos are absolutely incredible!
Isn't it amazing how a film could last so long in a camera without disintegrating?
Fantastic photos taken some 69 years ago. Some of you will have to go to a museum to see what a Brownie camera looked like?
Note:
THESE PHOTOS ARE FROM A SAILOR WHO WAS ON THE USS QUAPAW ATF-11O.
I THINK THEY'RE SPECTACULAR!
PEARL HARBOR
December 7th, 1941
Tags: brownie camera, pearl harbour, photography, vintage photo, world war 2
Filed under Interest, Visual Graphics & Images
Nice shots by Edward Horsford!
These are a series of high-speed pictures that captures a water balloon…without the balloon. The shots are snapped at the point of explosion, when the balloon skin breaks open. It looks like he's somehow holding a ball of water.
Tags: high speed photography, water balloons
Filed under Entertainment, Interest, Youtube/Vimeo/Videos
"Oops", created by Chris Beckman, is a 10 minute art video composed entirely of appropriated YouTube videos in which the camera is accidentally dropped. What's amazing is how seamlessly the clips are stitched together, making it difficult to discern where one clip ends and the next begins. The result is mesmerizing.
The film won first prize in the "Experimental" category at this year's Vimeo Festival + Awards.
Tags: amateur films
Filed under Interest, Visual Graphics & Images
Seriously, this photo is as original as it was taken a whole century ago.
Instead, this 100-year-old Russian photo was taken using the Harris Shutter Effect, which causes those bright, saturated colors that look more in keeping with today's photography.
First, a little bit of context for this photo. The three peasant girls were shot by the Russian photographer Sergey Prokudin-Gorsky in 1909, who was renowned for taking the only known color photo of Leo Tolstoy, in 1908. He caught the eye of Tsar Nicholas II, who hired him to document Russian life in color—specifically, using the Harris Shutter Effect.
Invented by Kodak, the bright colors are caused by re-exposing a frame in red, green and blue filters. Anyone who's tinkered with lomography cameras—or any film camera which allows for multiple exposures—should be familiar with the general idea, where the same subject is shot several times, only changing the color filter each time.
Source: Gizmodo
Tags: 100 year old photo, Harris Shutter effect, old photo, photography
Filed under Interest, People, Visual Graphics & Images
Some of the most iconic pictures I've come across, thanks to this collection found at My Modern Met; taken across various countries around the world.
Tags: Eastman Kodak, iconic photo, Kodachrome transparency film, photography, Steve McCurry
Filed under Interest, Visual Graphics & Images
This is not a Photoshop. It's not an optical trick. And it's not an illustration. It's just a simply great photo taken near the Linevo village, in the Volgograd region of Russia.
A wild firestorm went through the village and its surroundings, destroying 80 houses. Nobody knows what was the origin, but at least the phone lines are still working.
Source: Igor Podgorny via Gizmodo
Our second image comes from Isaac Gutiérrez Pascual, who was probably one of the luckiest guys on earth, who was bequeathed with this captivating view.
The Moon, Venus, the clouds, and the birds dancing under the lights and shadows of a perfect sunset… So perfect, in fact, that it feels otherworldly, like an sci-fi illustration. Againt, there aren't Photoshop filters or HDR or airbrushing here.
No Photoshop adjustment work, no HDR toning or compositing of any kind. Just the usual value tweaking while importing the RAW photography from the camera. The magic was not in the camera or the software, just in the skies of the beautiful city of Córdoba, Spain. "It was pretty simple. I took it with my Canon 5D and Canon EF70-200 2.8 IS lenses. I measured the light with a Sekonik light meter, and set the camera at ISO 320, f/5.6 and 1/320. I imported it through RAW and that was it" he says.
Tags: beautiful photo, beautiful pictures, mars, moon, storm aftermath, sunset, venus
Filed under Arts & Crafts, Interest
A woman called Maddie has made a perfect, sprawling, insanely detailed hobbit hole dollhouse, including handmade furnishings. It is superb and perfect in every way. And it's supposed to be a college project!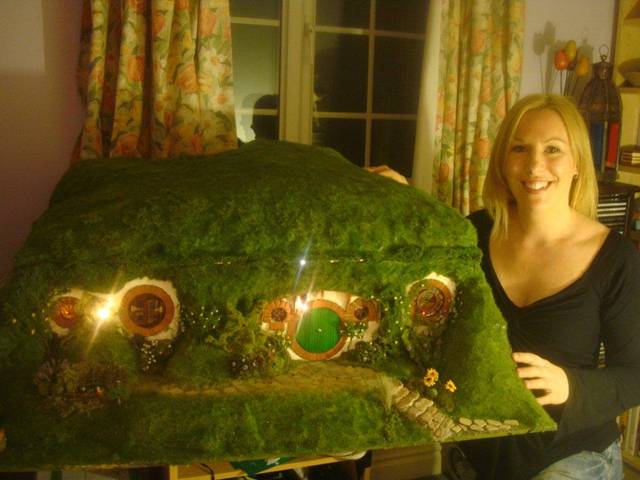 Source: Boing Boing
Tags: Hobbit hole house, Hobbits, The Hobbit, the Lord of the Rings
Filed under Interest, Youtube/Vimeo/Videos
Well I basically shot the entire clip to test out the Nokia E72's video recording capabilities.
And I'm happy to say, apart from the 15 FPS recording (which isn't an issue anyway), it didn't have any problems that it used to, thanks to the recent firmware update. Previously, recordings can be quite jittery and the phone crashed during the same.
Different modes/settings were used for different location around the house, indoors and outdoors.
And don't ask me why the final clip (original file) turned out to be 80MB, it's Quicktime Pro's doing.
Tags: film making, Mobile phone film making, Nokia, Nokia E72