Filed under General
As if it was never enough in this blogging world, Rags 'n Ram is now live on Twitter! You guys can now follow my posts at http://twitter.com/RagsnRam.
Regards,
Raghu
Filed under Malaysia
May your soul Rest in Peace, Yasmin Ahmad, the greatest Malaysian film director I've ever known.
It's very saddening to report that Yasmin Ahmad died in the hospital at about 11.25 pm just now (Saturday night).
Her death was confirmed by Media Prima Group Chief Operations Officer Datuk Seri Ahmad Farid Ridzuan, who was at the Damansara Specialists Hospital, when contacted by Bernama.
Yasmin, 51, collapsed while presenting a working paper at Sri Pentas, the headquarters of the private television station TV3 on Thursday and was rushed to the Damnsara Specialists Hospital.
She was reported to have suffered a stroke and brain haemorrhage.
Source: Bernama
Filed under Entertainment, TVC, Youtube/Vimeo/Videos
In the series of continuous silly TV commercials from India, here comes another one, for Domino's Pizza.
Filed under Entertainment, Visual Graphics & Images
I'm not going to post on every movie that goes up in Comic-Con this time around, especially on that disgusting New Moon that apparently attracted a few thousands from all over the US. I'm not going to even mention that name again. Just some brief updates on a few Disney flicks, Avatar, District 9, Iron Man 2, and etc.
Back on track, I'm going to talk about one of the most anticipated movies of the year; Avatar. Been in development for over 14 years and production for over 4 years now, finally people get to see a glimpse of the movie. A 25 minute preview was publicly aired to a packed crowd of 6,000 comic book and film geeks at Comic Con 2009, for the first time ever. And the response; it was astounding it seems. Almost everyone who has seen the preview claims that this movie will indeed revolutionise the movie industry as it was previously believed.
The preview started out with an introduction to Sam Worthington as Jake and then an introduction to what we'll be seeing for the remainder of the movie – his Avatar body. The bodies are actual biological beings and Jake's mind becomes a part of theirs and he, essentially, becomes this animal. These Na'vi are 10 foot tall creatures who are a pale blue color yet glow at night.
James Cameron was himself present for the screening, and Variety's Kristina Rettig described the previewed clips as "a sci-fi fever dream" that mixed CGI, performance capture and green-screen footage.
At a panel session following the screening, Cameron gave a shout-out to LOTR director Peter Jackson, saying it was that production's realisation of Gollum that gave him the cue to make Avatar.
Avatar Day – 21 August 09
Can't find any leaked videos of this preview? Of course you won't, it was aired in digital 3D, and how do you expect to see this on Youtube anyway? Well here's a good news to compensate that; 15 minutes of the film will be screened in digital theaters by Fox for free across the globe on August 21. If it ever hits Malaysia, I guess it will be aired in IMAX Berjaya Times Square or probably a normal digital 3D cinema anywhere in KL or Penang.
Trailer
Another good news: The official trailer will also arrive (online) on 21 August as part of this big promotion. The worldwide trailer launch (theatrical) will be presented in all formats, including IMAX 3-D, IMAX 2-D, digital 3-D, digital 2-D, and 35mm 2-D!
Website & Updates
The official Avatar website is now live; with James Horner's Music in the background. Also, you could follow the official Avatar Twitter feed for breaking news, and/or join the official Facebook page.
Click here to read more on Comic-Con '09: 'Avatar' goes public!
Filed under Entertainment
District 9
District 9 had its first worldwide screening today at Comic-Con in San Diego, and here's a short collective review from some of the famous media critics: "This film was awesome. Every once in a while a great sci-fi film comes along that turns the genre on its a head. This felt like one of those films. It has great commentaries on society, cultural differences, prejudice, and other real world issues. But at the same time it manages to dish up special effects and gritty, nasty action that is unlike anything seen in recent memory. District 9 blows away Transformers: Revenge of the Fallen, no question."
Some tidbits over the movie:
It is advertised as being a low budget film, but it doesn't look like one at all. Between major CGI scenes and heavy action, this looked like a very expensive film. However, Peter Jackson confirmed it cost only $30 million. That's astounding considering what we saw. The low cost of filming in South Africa, the use of an effects house in Vancouver for all the aliens shots, and no big name actors kept the cost down. All the aliens in District 9 were CGI. They had some practical ones made for closeups, but they opted to go entirely CGI. Since District 9 was low budget, they decided to cut loose on the action and get the hard R rating on the gore and killed humans.
The Hobbit
The script for The Hobbit is 3 weeks away from having a first draft. Philippa Boyers, Fran, Peter, and Guillermo have been working on it. No casting has been done yet because they need to finish the script first. But they have discussed thoughts on casting. He also said the studio hasn't officially green lit the project yet. Peter also told that the current plan is to release the first "Hobbit" film in December of 2011 and the second one in December of 2012. This is assuming everything comes together.
The Lovely Bones
Jackson showed is some assembled four and a half minutes footage for The Lovely Bones. He said the full trailer will be released online 6 August and will appear on prints of Julie & Julia. A mix of the surreal and the suspenseful; most say. The official website is still under construction, however.
Halo (Comments from Neil Bloomkamp)
Neill Bloomkamp said this when inquired about returning to Halo movie; "The rumors are completely wrong…The answer is, I probably wouldn't do Halo if it was offered to me. But creatively, I would like to do it. It's kind of like I'd be sad to not work on it, but I would still say no."
"I worked on it for five months…I put a lot of sort of sweat and blood into Halo. Creatively, it's very compelling. I love it. But, when you work that long on something and you have it bottom out and collapse…i mean, I got District 9 out of it, I think I'm probbaly better off because it's more of a personal film. But yeah, I love the world of Halo. I don't think I would go back there," he further said. Peter Jackson did not comment on this issue however.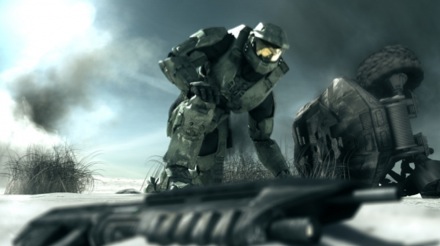 If you thought your mobile phone is just for calling, sms-ing, cam-whoring, and etc; think again. Indian farmers seem to know better of their phones' usages!
Mobile Operator Tata Teleservices is testing technology that allows farmers to use their mobile phones to remotely monitor and switch on irrigation pump sets in far flung locations. How cool is that!
The technology, called Nano Ganesh, is being tested in two villages in the Indian state of Gujarat.
In India, where the electricity supply is erratic, farmers often walk several kilometers to where their irrigation pumps are located, only to find that there is no electricity available, Lloyd Mathias, chief marketing officer of Tata Teleservices, said on Wednesday.
By dialing a code number from his mobile phone to a wireless device attached to the pump, farmers can now remotely monitor the electricity supply, and also switch the pump on and off, Mathias said.
Click here to read more on Beat this: Indian Farmers Use Mobile Phones to Control Irrigation
Filed under Entertainment, TVC, Youtube/Vimeo/Videos
Shortly before Toy Story, Pixar was forced to create television commercials. The company had been losing money for years and Steve Jobs was hoping to recoop some of the money by having the company produce animated television commercials. The hope was that with commercials, the company could become self-supporting, and the goal was a computer animated television movie or feature film.
Impressed with John Lasseter's short films, Pixar has already been approached by a handful of advertising agencies to produce television commercials for their brands. Most advertising agencies produced their own scripts and storyboards, and the animation company was usually not much more than work for hire. But Pixar was only interested if they would be a part of the creative development of the spots.
Two new animators were hired to deal with the new workload, Andrew Stanton (who has gone on to direct Finding Nemo and WALL-E) and Pete Doctor (who has gone on to direct Monsters, Inc and Up). Pixar was able to make $2 million a year in the commercial business while gaining exposure to the mainstream public. It was an interesting time for the company, that a lot of people aren't really aware about.
Here are some of the commercials created by Pixar in their early days. Find more at /Film:
Listerine: Boxer (1990)
Click here to read more on Pixar's TV Commercials; Have You Seen Any Before?
Filed under Entertainment, Trailers
The official teaser trailer for Tim Burton's Alice in Wonderland is now out! This trailer, together with other Disney previews were shown at the Comic-Con in San Diego yesterday.
From what I can see, it's a brilliant movie. But, not everyone will like what they see. It's a bit disturbing in some scenes, but apart from that, its typically magical, very whimsical, and very much a fantastical adventure like any other work of Tim Burton. Alice in Wonderland comes to both digital 3D and 2D theaters everywhere on March 5th, 2010. Some critics are also claiming that CG is a bit over-used for such a story.
Check out the teaser trailer below:
Filed under Automotive, Visual Graphics & Images
The new flagship model of the German marque Audi is not slated to be revealed till late 2009, but here comes an unofficial teaser from the company on the new A8. This so-called teaser image was discovered by Autovisie, who claims that it was buried in a collection of promotional materials released by the automaker as part of its 100th anniversary celebration.
Standing with the cloth-covered A8 is Audi's Board Member for Technical Development, Michael Dick, who to me looks very proud of his new baby. Through the sheet, the car's trademark LED daytime running lights are visible, which to many seem to be menacing enough to kill its rivals, the new BMW 7 Series and Mercedes S Class.
Off the hook, the Audi A8 is expected to hit the market in 2010 with four engine options, including petrol and diesel versions of a 3.0-liter V6 and 4.0-liter V8. Reports also claim that the S8 model would receive a 5.0-liter V10 FSI that unleashes 620 horsepower. This new car comes in time of the outgoing model's 7 year service in the range as well.
Another scanned teaser image:
Some nice scoops:
1. The project is internally called AU 641; and an Audi representative states that they're currently putting the finishing touches on the new A8 and the car's undergoing final-phase testing under full secrecy in Germany.
2. The car's set to grow by 10 cm in length, yet shed about 10% of weight from the outgoing model. With the next-generation ASF that puts together magnesium, high quality steel and a new generation of insulation, the target (minimum) is set to 1700 kilograms.
3. The W12 powerplant remains, not only because customers in China and Saudi Arabia are asking for it, but also due to the competitions not having such an engine.
[I might just get a call from Audi's lawyers on these]
Filed under Entertainment, Visual Graphics & Images
Have you always wondered how would all the movie monsters (that you know of) fit together in a picture? Well here is an artist's rendered imagination, true to scale nonetheless. This comparison chart puts together 11 notable movie monsters and their sizes.
It starts with Chucky from Child's Play, believe it or not, and also includes the Wicked Witch of the West, Tyrannosaurus Rex, King Kong, the Rancor from Star Wars, Megatron, the 50 Foot Woman, Mr. Stay Puft from Ghostbusters, the Tripods from War of the Worlds, Godzilla, and, of course, the Cloverfield monster.
There's no name credited to the image, but to what it currently is, I should praise the guy who did this; although some other notable monsters may be missing from the chart at the same time.
Check this out:

Source: GeekTyrant