Filed under People, Visual Graphics & Images
This is another nice follow-up to my previous post on Visual Storytelling. There are 22 images involved, but I've only picked a few and included them here.
For more, head over to mymodern met
Filed under Entertainment, Trailers, Youtube/Vimeo/Videos
This movie will never make it here to Malaysia, but still worth the look. Well, I'm sure if it's good enough for you guys, you'll be downloading as soon as it comes out on DVD, right?
The Maid, an indie flick definitely not from the US (South America actually), is directed by Sebastian Silva, and runs a storyline that goes: After 23 years working as housemaid in an upper class Santiago, Chile household, Raquel (Catalina Saavedra) is as much a part of the Valdez family as the wife, husband, and kids she lives with and looks after.
Check out the HD trailer here:
QT HD available on Apple.com
Filed under Youtube/Vimeo/Videos
I was watching this with my brother 2 days back, and co-incidentally a friend tipped me again with it yesterday. Here's a Mr Bean episode (Christmas special) from a few years back (I don't know the year):
Filed under Automotive
We all know of Mercedes' intention when they announced the return of the SLS Gullwing, in the form of the SLS AMG – simply to outpace the remarkable Audi R8. And here goes another piece covering the story with sources from the beast's [Mercedes] mouth itself.
Here's a piece of automotive history: Back in 1988, much of the German auto industry agreed, voluntarily, to govern their top-of-the-line cars to 155 mph. Carmakers were wise enough to suppress what they feared would be perceived as a pissing contest in top speed, which could well have ended with a rude awakening in the form of a general autobahn speed limit.
As angry turbo-diesels got faster and faster, the voluntary agreement was cautiously softened; BMW's M GmbH and Mercedes' AMG cars, as well as some Audis, can now go beyond 155 mph. But the industry wisely preferred not to be noisy about it. The option to ungovern some of the premier luxury and sports cars was typically buried deep in price lists, or only verbally communicated to prospective buyers.
Daimler, it seems, can't hold off anymore. The goal: Humiliate Audi's mid-engined R8 supercar, which—we now deduce—served as AMG's benchmark in defining the SLS.
Evidence? The R8 V10, powered by a 525-hp engine, goes from 0 to 62 mph in 3.9 seconds; top speed is 196 mph. The 563-hp SLS, by contrast (and according to figures released at the Frankfurt show), passes the 62-mph mark in 3.8 seconds; top speed—lo and behold—is governed at 197 mph.
A Daimler source tells the guy who wrote this article that this top speed was deliberately chosen to outmatch the R8 V10—and the governor would fool customers into thinking the retro-styled SLS could go much, much faster ("of course, you guys know it wouldn't").
Sounds clever? Audi is smiling; "This game is as old as the industry, but we are not going to respond."
Source: CarandDriver
Filed under Environment, Visual Graphics & Images, World
We have seen volcanoes from space a few weeks back, and now it's time to see glaciers. And these images are indeed very stunning.
See more on Wired
Filed under Entertainment, TVC, Youtube/Vimeo/Videos
With the partnership between Lightstorm and Panasonic, this move isn't so surprising after all. But for us the Avatar fans, another chance of seeing some unseen-to-date footage from the movie.
Youtube HD video:
Filed under Interest
A Brazilian musician has just completed a collaboration with an unusual partner: a large group of birds sitting on telephone wires.
Jarbas Agnelli, the said musician, saw a newspaper photo of a large flock of black birds sitting on the wires and recognized that their configuration looked very much like a musical score.
Starting from there, he arranged and recorded a composition, using xylophone, bassoon, oboe and clarinet and, of course, the notes laid out by the birds.
"The pleasing melody is not my invention. It was the birds' idea," Agnelli told the Daily Mail which interviewed him. "The notes are the exact position of the birds (in between the lines). The rhythm is a interpretation of their position, since there are no bar lines."
Cnet says; No word yet on whether the birds have engaged representation or what kind of royalties they will be asking for!
Here's the said music piece in a HD video form; enjoy!
Birds on the Wires from Jarbas Agnelli on Vimeo.
Filed under Entertainment, Visual Graphics & Images
Remember the cool space-themed movie I posted a few months back; entitled Moon? Well it was released on June 12, and obviously as we all expected, it never hit our shores.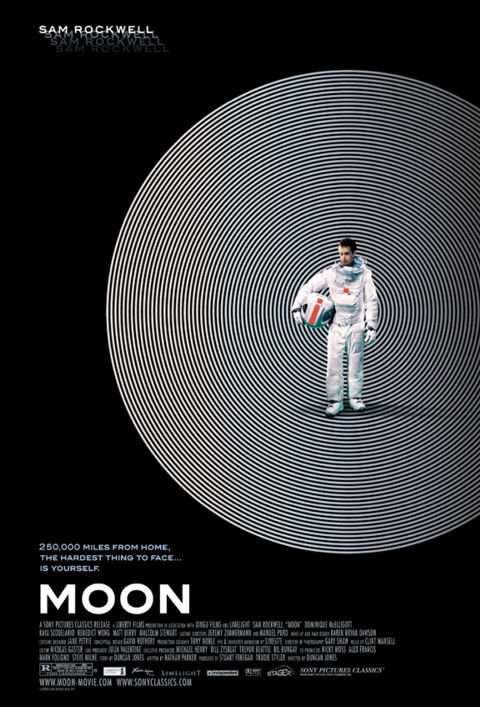 Just following up with the release, a few unreleased posters of the movie have been discovered online, and trust me, they're really cool; as cool as the chosen final poster itself, which is included above.
Source: Firstshowing.net
Filed under Entertainment, General
R.I.P Yoshito Usui; one of the greatest Japanese cartoonists of the 1980s, and the creator of one of my favourite Japanese mangas, Crayon Shin-Chan.
Tributes poured in Monday for Japanese cartoonist Yoshito Usui after confirmation of the bruised body of a man found on a mountain was that of the creator of the popular Crayon Shin-chan series.

Usui, 51, had been missing for more than a week when a body covered in bruises was found on Saturday by a climber in a mountain range straddling Gunma and Nagano prefectures, Kyodo News agency reported. The report said his family Sunday confirmed it was the cartoonist and quoted police as saying he may have fallen from a climbing path. Usui had been missing since September 11 after telling his family at his home in Saitama prefecture, near Tokyo, that he would be hiking on the mountain and would be back by the evening. When he failed to return his family contacted police.

The body was discovered Saturday morning about 120 meters below a cliff at Mount Arafune, where Usui had gone on one of his regular climbs. Police say the mangaka died from collapsed lungs and other injuries sustained in the fall on the afternoon of Sept. 11.
Usui made his debut as a manga author in 1987 and gained popularity in the 1990s with "Crayon Shin-chan" featuring the daily life of Shinnosuke, a mischievous five-year-old boy who's obsessed with bodily functions and older girls. The manga was adapted as an animated television series in 1992, had spawned 17 anime films, was translated into 14 languages, and was aired in over 40 countries.
Filed under Entertainment
Sounds familiar? I'm indeed talking of "Bilbo's Song" from the movie Lord of the Rings: The Return of the King.
This is probably one of the best example of book-to-movie songs I've ever heard. It's undeniable of the movie's sincere adaptation of the story at the same time as we know, winning 11 oscars including for the background score (which includes this deserving piece).
This song did not make it to the final cut of the movie however (it only made it into the Extended Edition DVD Fan Credits), which is an unfortunate thing. But it was included in the full-recording box-set of the LoTR soundtrack, in Disc 4. So many people who did not know of this full-recording set would not be aware of this beautiful piece as well.
I'm posting a dedicated piece on this song for a simple reason; the way Howard Shore had interpreted the lines of the original poem by Tolkien in the book. If you read the related Wikipedia article, the original poem (which is in English) was included in the second edition of The Road Goes Ever On and was later used in BBC Radio 4 adaptation of The Lord of the Rings. The original song was however not licensed to New Line, which made it not possible for them (LoTR team) to reproduce it for the movie. Uniquely however, Shore did this separate piece on his own initiative, which was completely in Elvish (being an Elvish translation of the original "Bilbo's Song"), and how cool is that!
Listen to it online:
[Note: The high treble on average-quality online songs such as this may not be comfortable for some speakers]