Filed under Automotive, TVC
Some video coolness!
Tags: Audi, Audi R8, Audi R8 GT, Audi R8 GT Spyder
Filed under Tech
After years and years of waiting, ever since the N900 with Maemo 5 was launched almost 2 years ago, finally Nokia has decided to step ahead in the game, with the new Nokia N9!
Specs and more images below:
The phone comes with 16GB or 64GB of onboard memory and 1GB of RAM wrapped in a polycarbonate shell that is colored all the way through, so dings and scratches won't show — unless the wounds run deep, of course. Connectivity comes courtesy of quad-band GSM and penta-band WCDMA radios, plus Bluetooth 2.1, NFC, and GPS. There is also a dedicated camera button for the 8 megapixel wide-angle shooter, which is capable of aperture F2.2 for low light picture taking and true 16:9 720p video recording. Oh, and it's an AF shooter, not EDoF.
The entire thing measures 116.45- x 61.2- x 7.6-12.1mm and weighs 135 grams, with a battery capable of lasting up to 50 hours (music), 4.5 hours (720p video), or between seven and 11 hours (GSM yappin'). You'll also get gratis turn-by-turn drive and walk navigation with voice guidance in Maps, a dedicated Drive app, proximity sensor and a choice of hue: black, cyan, and magenta. Other hardware specs include 802.11a/b/g/n WiFi, an ambient light sensor, compass, orientation sensor, a micro SIM slot, tethering support and a 3.5mm "AV connector." It'll be humming along on MeeGo 1.2 Harmattan, with apps being compliant with Qt 4.7 and HTML5 support bundled in.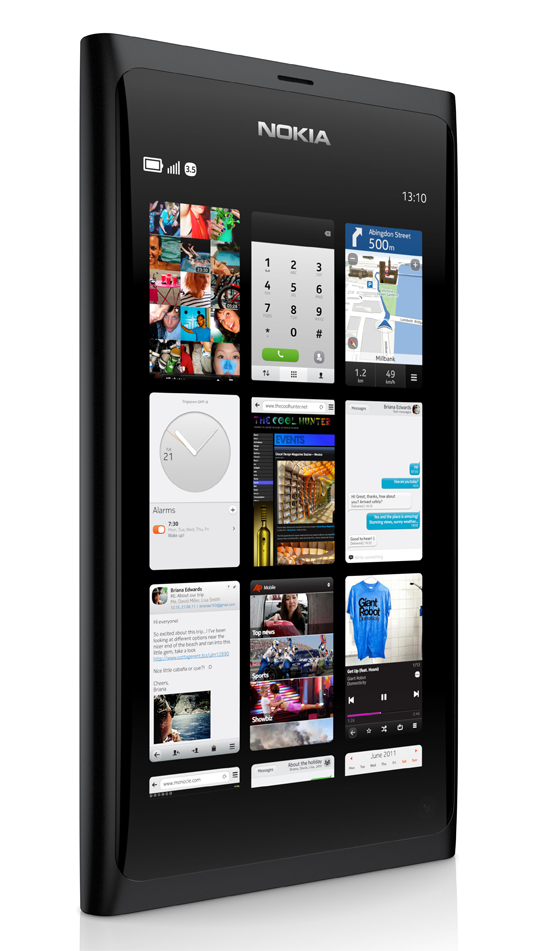 Data sheet: http://press.nokia.com/wp-content/uploads/mediaplugin/doc/1-nokia-n9-data-sheet.pdf
Some videos:

And oh, the black beauty in some press shot: