Filed under Tech
Apple has finally released its third-gen iPad, dubbed the new iPad (Yes, and not iPad HD or iPad 3 as rumours claimed!). And for what it does, it's definitely a PC killer! Looking pretty similar to iPad 2, the changes are very subtle on the outside – only when it's powered on, the differences are evident.
Here are the specs in brief:
- 9.7″ HD Retina Display at 2048 x 1536 pixel resolution (at 264 pixels per inch (ppi))
- Dual-core A5X CPU
- 1GB RAM (rumoured!)
- PowerVR SGX543MP4 GPU
- Sizes of 16GB to 64GB (same as iPad 2)
- iOS 5.1
- WiFi and WiFi+4G models
- 9.4mm thick and weighs 652-662g
- 5 megapixel iSight rear camera with 1080p recording (and VGA secondary camera)
- 10 hours of battery with 42.5Wh battery
- AssistiveTouch and other accessibility options (not Siri!)
For more info, visit Apple.com/iPad
I'm totally getting one!
Tags: Apple, Apple iPad, iPad, iPad 2, iPad 3, iPad HD, new iPad, Third generation iPad
Steve Jobs, the visionary behind some of the world's best loved technology, has passed away at the age of 56.
One of the most important and influential figures of our time, the name of which could be found in the credits of all Pixar movies, left us peacefully, surrounded by his family members, early today (Malaysian time).
Thank you Mr. Jobs, thank you for everything we have today – personal laptops, mp3 players, touchscreen smartphones, all-in-one desktops, legal music downloads, etc, the list goes on! There is no area of technology that Steve Jobs' work has not directly influenced and profoundly transformed. He built products that transcended technology and dealt in meaning and wonder rather than hardware and software.
Jobs, along with his engineer friend Steve Wozniak, was the man behind the first popular, low-cost computer. Jobs created the concept of an all-in-one computer in the Macintosh, which lives on today in the iMac, and hundreds of millions of smartphones and tablets. In 1997 Jobs returned to Apple, and in 2001 he launched the iPod — a device that drove the revolution of the antiquated, analog music industry into the digital beast that it is today. This paved the way for the iPhone and then the iPad, two products that forever changed the course of consumer technology.
In his own words (something he wrote recently):
When I was 17, I read a quote that went something like: "If you live each day as if it was your last, someday you'll most certainly be right." It made an impression on me, and since then, for the past 33 years, I have looked in the mirror every morning and asked myself: "If today were the last day of my life, would I want to do what I am about to do today?" And whenever the answer has been "No" for too many days in a row, I know I need to change something.

Remembering that I'll be dead soon is the most important tool I've ever encountered to help me make the big choices in life. Because almost everything — all external expectations, all pride, all fear of embarrassment or failure – these things just fall away in the face of death, leaving only what is truly important. Remembering that you are going to die is the best way I know to avoid the trap of thinking you have something to lose. You are already naked. There is no reason not to follow your heart.

About a year ago I was diagnosed with cancer. I had a scan at 7:30 in the morning, and it clearly showed a tumor on my pancreas. I didn't even know what a pancreas was. The doctors told me this was almost certainly a type of cancer that is incurable, and that I should expect to live no longer than three to six months. My doctor advised me to go home and get my affairs in order, which is doctor's code for prepare to die. It means to try to tell your kids everything you thought you'd have the next 10 years to tell them in just a few months. It means to make sure everything is buttoned up so that it will be as easy as possible for your family. It means to say your goodbyes.

I lived with that diagnosis all day. Later that evening I had a biopsy, where they stuck an endoscope down my throat, through my stomach and into my intestines, putatic cancer that is curable with surgery. I had the surgery and I'm a needle into my pancreas and got a few cells from the tumor. I was sedated, but my wife, who was there, told me that when they viewed the cells under a microscope the doctors started crying because it turned out to be a very rare form of pancrefine now.

This was the closest I've been to facing death, and I hope its the closest I get for a few more decades. Having lived through it, I can now say this to you with a bit more certainty than when death was a useful but purely intellectual concept:

No one wants to die. Even people who want to go to heaven don't want to die to get there. And yet death is the destination we all share. No one has ever escaped it. And that is as it should be, because Death is very likely the single best invention of Life. It is Life's change agent. It clears out the old to make way for the new. Right now the new is you, but someday not too long from now, you will gradually become the old and be cleared away. Sorry to be so dramatic, but it is quite true.

Your time is limited, so don't waste it living someone else's life. Don't be trapped by dogma — which is living with the results of other people's thinking. Don't let the noise of others' opinions drown out your own inner voice. And most important, have the courage to follow your heart and intuition. They somehow already know what you truly want to become. Everything else is secondary.
Steve Jobs will be sorely missed by his family, his friends, his comrades in Cupertino, and of course all of us.
Rest in peace, and farewell, Steve Jobs.
Tags: Apple, Apple Computers, Apple Inc., iPad, iPhone, iPod, Steve Jobs, Steven P. Jobs
Filed under Tech
iPhone 4 was phenomenal. iPhone 4S, albeit with minimal changes, has done it again. Taking into account of the OS, the new iPhone is one of the most powerful devices to enter the market this year (Android is still considerably slow and sluggish to a certain extent, so there's no point comparing Android phones with computer-like hardware specs even).
Brief specs:
- Dual core Ghz processor;
- Dual core GPU (7 times faster than previous iPhone);
- 1GB of RAM
- 8MP camera (f 2/4, backside illuminated CMOS), with IR filter, 5 element lens, mere 1.1 seconds from first picture to another;
- 1080p video recording;
- Same retina display (3.5″);
- Wireless mirroring;
- iOS 5;
- Siri – Assistant feature! [This one is really revolutionary, with natural language mastering];
- Black and white versions, 16GB: $199, 32GB for $299, 64GB for $399 (US prices with carrier contracts).
The phone goes on sale in the US (and 6 other countries) on 14 October 2011, and in 22 other countries on 28 October 2011. The remaining 70+ countries will get it later!
Tags: Apple, Apple iPhone, iOS 5, iPhone 4, iPhone 4S, iPhone 4S launch, iPhone 5, iPhone 5 launch, new iPhone
Filed under Tech
Behold the latest image to emerge online, comparing the iPad 2 against the current iPad! I'm not liking it much, it's very iPhone 3GS-ish, rounded back like turtle.
Note: The one above isn't the real iPad 2, but a mock-up provided by Apple to case manufacturers, so it could be a real deal.
Specs wise, here are some info that I managed to gather so far:
- Next-gen custom chipset, the Apple A8/A5 (based on the dual-core Cortex-A9 architecture)
- Qualcomm chipset that does triple duty as the CDMA / GSM / UMTS baseband processor
- No LTE
- GPU: PowerVR SGX543 – capable of pushing 35 million polygons per second at 200 Mhz and 1 billion pixels per second (and native 1080p encoding and decoding)
- SD Slot
- No separate USB/MicroUSB slot
- Wide-range speaker
- Super High Resolution IPS display (same 9.7″ as the current one) with possible 1280 x 960 or 1400 x 1050 resolution
- Primary & Secondary Cameras (rear and front)
Tags: Apple, Apple iPad, iPad, iPad 2
Filed under Tech
With Apple posting record profits amid zooming sales of iPhones and iPads, CEO Steve Jobs declared victory over main rival and BlackBerry maker Research In Motion (RIM).
"We have now passed RIM, and I don't see them catching up with us in the foreseeable feature," Jobs told the Canadian media in a conference call after Apple's astounding results Monday.
"We are out to win this one," Job said.
Jobs also thrashed Google's Android and its growing market share, something he doesn't acknowledge of anyway. Surprisingly, he however mentioned of Nokia as a strong and healthy competitor, a company worthy of admiration likewise.
On tablets of other manufacturers, he also said "The current crop of 7-inch tablets are going to be DOA, dead on arrival," before also stating "Their manufacturers will learn the painful lesson that their tablets are too small."
Source: Various
Tags: Android, Apple, Blackberry, Google, iPad, iPhone, Nokia, RIM, Steve Jobs
Filed under Tech, Visual Graphics & Images
iPhone 4, iPhone 4..the whole web has been in talks of it, ever since it was released. Everyone was very excited with the camera upgrade in particular. But how much does it live up to its hype? (in terms of Camera of course!)
Everyone has seen the individual pics posted on Apple's own site:
But no one has seen it directly compared to other rivals in the market. So, let's see this excellent comparison from the famous Fone Arena.
Now that's taken outdoors during the day. What about indoors/under low light?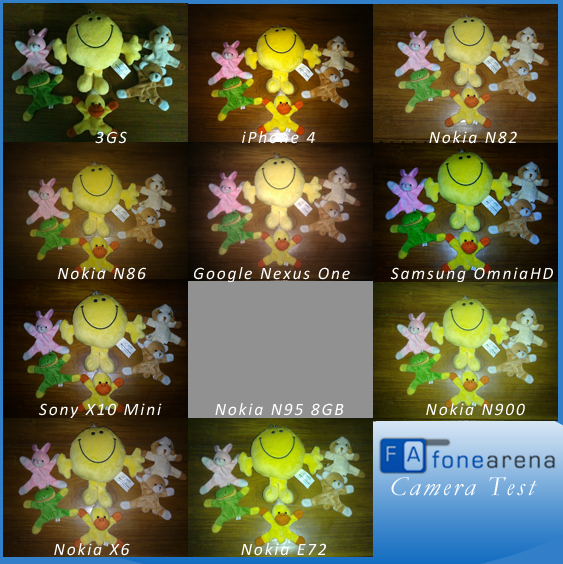 Oddly, the N95 isn't there.
Read the full review here. Fone Arena thinks the Nokia N82 still somewhat takes better pictures than the rest, despite being the oldest in the crowd. But to my eyes, the N95 isn't so bad too. The iPhone 4 on the other hand, seems to take images that are slightly oversaturated, and unnatural. The white balance also seems to be off. I think I need to test it myself, definitely, but from what we're seeing here, the images don't really live up to the hype of "It's not really about megapixels. It's about how big are the pixels." Nonetheless, it's still among the best out there.
Samsung Omnia HD is the worst of all, simply unnatural to the maximum. Nexus One is equally bad, but on the opposite side. The X6 and N900 seem to take similar photos. And E72 scores quite good too, but not very. As for the N86, I think the images go without saying, the megapixel still seems to count in picking up more details. And can you guys notice the difference due the wide-angle lens?
Tags: Apple, Apple iPhone 4, iPhone 4, iPhone 4 camera, iPhone 4 photo
Well I'm sure all of you would have read/heard of the iPhone 4 reception problems. So here are 2 ways to solve this (the funny way of course). Made my day!
Tags: Apple, iPhone 4, iPhone 4 reception problem
Filed under Tech
Apple's iOS 4 (formerly known as iPhone OS 4) goes live today, with the phone shipping tomorrow onwards. Steve Jobs have talked extensively about the new OS, but there are still a lot of things remaining unexplained. So what's so special about this new OS? Here goes a list of some 10 hidden features.
- Support for Bluetooth Keyboards
- Rotate and resize photos
- Wikipedia and Web search
- Switching off cellular data
- Orientation Lock
- App-specific location settings
- YouTube rotate and zoom
- Custom Dictionary
- Calendar events from e-mails
- Persistent Wi-Fi
Go get your update today!
Make sure you've got iTunes 9.2 installed, hook your phone up to your machine and click on update if it doesn't already prompt you to download iOS 4 for free. Then, sit back, enjoy and let us know in the comments if you've found a few touches of genius of your very own. If you're wondering why it's not available quite yet, it might be that we're all having to wait for Uncle Steve to get up and have his cornflakes first.
Tags: Apple, iOS 4, iPhone, iPhone 3GS, iPhone 4
Filed under Tech
Finally it's out! With Steve Jobs taking the stage again, everything was wonderful as they were meant to be. Well, put aside all the hiccups they had of course!
Now for the phone, which comes in five flavours, and with 32GB of capacity (max). iPhone HD comes with a 960 X 640 px really high-res IPS display, with the same old excellent multitouch feedback. Now for a bit of technical specs in short:
- Glass on front and rear with stainless steel running around the side. Uses stainless steel for strength, uses glass for optical quality and scratch resistance.
- Really thin at 9.3mm! (Thinnest smartphone on the planet)
- external features: volume up and down, mute, front facing camera. Micro-sim tray, Camera with LED flash on back, and mic, 30 pin connector, and speaker at the bottom.
- The black seams we have seen? Shows that the stainless steel band is the primary structure of the phone, "Brilliant engineering, uses band as part of Antenna system." One side is Bluetooth, WiFi, GPS, other is UMTS and GSM.
- Retina display! 4x as pixel density in same amount of space at 326 ppi, with 800:1 contrast ratio
- iPhone OS 4 – Apps automatically run full size but look even better because iPhone OS automatically renders text and controls in higher resolution, without developers doing any work.
- runs on Apple A4 chip – bigger battery plus A4 processor, 40% more talk time. 7 hours talk time. 6 hours of 3G browsing, 10 hours of WiFi browsing, 10 hours of video. 40 hours of music. 300 hours of standby.
- 32GB of storage, quadband HSDPA/HSUPA, and 802.11n now.
- a new hardware – Gyroscope! Gyro + accelerometer = 6 axis motion sensing. Rotation of 3D objects is smooth.
- Camera – 5MP (it's not about the megapixels says Jobs!) with backside illuminated sensor. 5x digital zoom in camera app and tap to focus with LED flash. Demo pics were very good. Video: 720p at 30 fps! Tap to focus video with built-in video editing and one-click sharing (Record, edit, and share HD video right on your phone).
- iMovie for iPhone! Just like the desktop version, only smaller. For for $4.99!
- iPhone OS is now called iOS 4!
- Multitasking, as we already know.
- Google will remain as default search option. Bing added as 3rd!
- iBooks coming to iPhone 4 (and iPod Touch).
- iAds.
- and many more!
Off the hook, 100 millionth iOS device will be sold this month! Congrats Apple.
Tags: Apple, iPhone, iPhone 4, iPhone 4G, iPhone HD
Filed under Tech
What it means to the industry of patent lawsuits between these above companies?
This article from Wired extensively covers on every debatable issue. Worth reading for those interested.
In its complaint to US regulator the International Trade Commission (ITC), Apple claimed — and continues to claim — that Taiwan-based HTC is infringing patents related to the iPhone's user interface, hardware and software design. Apple named 12 phones that use this technology: of those, five also use Google's Android operating system, and seven also use Microsoft Windows mobile software.

Apple's reward, if this claim proves successful: the importation and selling of these devices would be prevented in the US. "We are not a party to this lawsuit," a Google spokesperson tells Wired. "However, we stand behind our Android operating system and the partners who have helped us to develop it." Apple told Wired that it has a policy of not commenting on ongoing litigation. Although it is investigating Apple's claims, the ITC has yet to express an opinion.

HTC, the world's fifth-largest manufacturer of smartphones, says it first heard of Apple's intentions when it saw the press release. "It's part of business," HTC's chief executive, Peter Chou, responds. "We need to face it and everyone can talk it through." HTC, however, is not the only adversary in the sights of Apple's lawyers: the company is also suing Nokia, claiming infringement of 13 of its patents. In this case, however, it was Nokia that fired the first salvo in October 2009, when it claimed that Apple had infringed more than ten of its patents related to Wi-Fi, GSM and 3G wireless technology — infringements that cover all models of the iPhone.

Nokia had already licensed the same technologies to several dozen other companies and had been in protracted, unsuccessful, negotiations with Apple. "Apple is attempting to get a free ride on the back of Nokia's innovation," says Ilkka Rahnasto, vice-president of legal and intellectual property at Nokia. "The basic principle in the mobile industry is that those companies that contribute in technology development to establish standards create intellectual property, which others then need to compensate for. Apple is also expected to follow this principle." Rahnasto adds that, during the last two decades, Nokia has invested approximately €40bn (£36.2bn) on research and development.
Head over to Wired for the full 3-page article.