Filed under Automotive, Youtube/Vimeo/Videos
Nice review video of the Audi RS5, with some great driving scenes around the Alps. If you're a fan of the mighty RS5 like myself, then this is a must-watch!
Tags: Audi, Audi RS5, Audi RS5 review
Filed under Automotive, Youtube/Vimeo/Videos
Nice video of a hawt car!
Tags: Audi, Audi A5, Audi RS5, Geneva 2010, Ur-Quattro
Filed under Automotive, Visual Graphics & Images, Youtube/Vimeo/Videos
Two weeks back, the Audi RS5 was unintentionally leaked, and a week after, Audi finally released the details of the mighty vehicle ahead of the Geneva show.
The show stopper sports the 450 horsepower (with 430 Nm of torque) version of Audi's tried and true 4.2-liter V8 paired to the legendary Quattro AWD. Combine that with perhaps the best looking coupe designs on the market today and you've got one heck of an appealing sports car. A beast who's so beautiful, simply told.
It is connected to a seven-speed S tronic transmission which allows the 1,725 kilogram (3,803 pound) coupe to accelerate from 0-100 km/h in 4.6 seconds, before topping out at an electronically limited 250 km/h (155 mph). If that isn't fast enough, Audi can remove the speed limiter to enable the car to hit 280 km/h (174 mph).
The most interesting part, in spite of all that extreme power, the RS5 only consumes 10.8 liters of petrol per 100 km (21.78 US mpg)!
The RS5 engine features friction reduction technology, "intensive fine-tuning of the dual-branch intake", and a new exhaust system. To enhance the car's handling, Audi installed a new crown-gear center differential. The self-locking crown-gear "can widely vary the distribution of torque between the front and rear axles. If necessary, up to 70 percent can flow to the front or as much as 85 percent toward the tail end." When extra traction isn't required, the unit has a 40:60 rear-biased configuration.
Other performance tweaks include a revised braking system (ceramic carbon-fiber brakes are optional), a modified electronic stabilization program (which can be turned off completely), and a recalibrated speed-dependent servotronic steering system (dynamic steering is optional).
And just for your pleasure, the RS5 trailer:
Tags: Audi, Audi A5, Audi RS5, Geneva 2010
Filed under Automotive, Visual Graphics & Images
Hawt! [Note: Heavy images]
That's all I can say for now, this thing is smokin' hot, seriously. The Audi RS 5, slated to be announced shown next month in Geneva, was leaked released a few days ago (unintentionally of course) by the agency who's probably doing or printing the consumer catalog.
No other details could be gathered, except that The RS5 is powered by a naturally aspirated 4.2-litre V8 with 450bhp and 430 Nm. Also, there seems to be lack of a manual option; Audi's 7 speed S-tronic auto transmission is the standard. More specs to come in another separate post.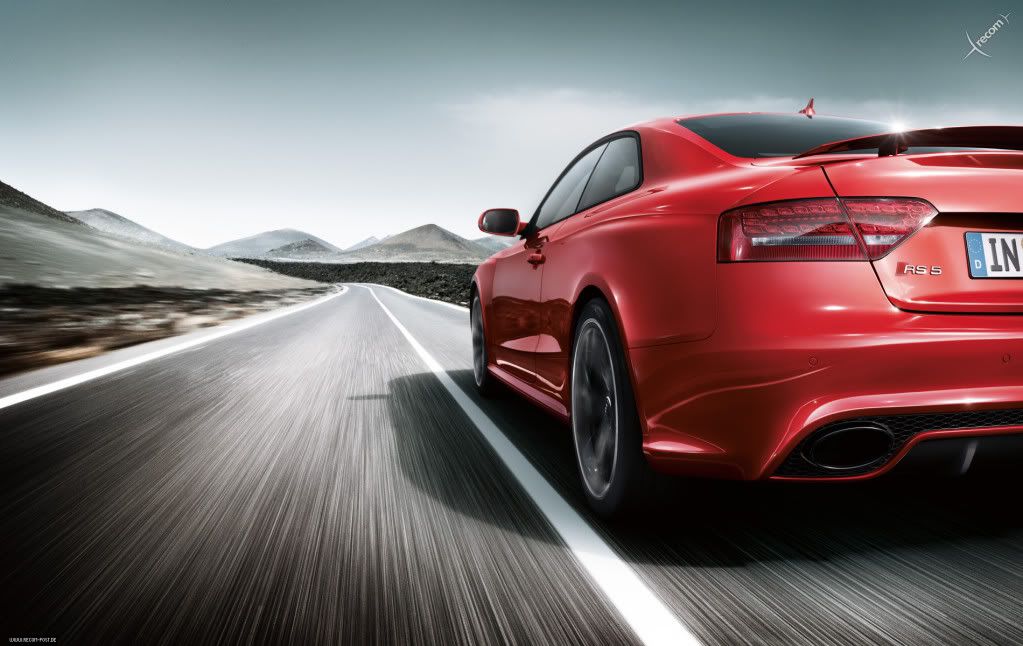 More images here.
Tags: Audi, Audi A5, Audi RS5, Geneva 2010