Filed under Tech
iPhone 4 was phenomenal. iPhone 4S, albeit with minimal changes, has done it again. Taking into account of the OS, the new iPhone is one of the most powerful devices to enter the market this year (Android is still considerably slow and sluggish to a certain extent, so there's no point comparing Android phones with computer-like hardware specs even).
Brief specs:
- Dual core Ghz processor;
- Dual core GPU (7 times faster than previous iPhone);
- 1GB of RAM
- 8MP camera (f 2/4, backside illuminated CMOS), with IR filter, 5 element lens, mere 1.1 seconds from first picture to another;
- 1080p video recording;
- Same retina display (3.5″);
- Wireless mirroring;
- iOS 5;
- Siri – Assistant feature! [This one is really revolutionary, with natural language mastering];
- Black and white versions, 16GB: $199, 32GB for $299, 64GB for $399 (US prices with carrier contracts).
The phone goes on sale in the US (and 6 other countries) on 14 October 2011, and in 22 other countries on 28 October 2011. The remaining 70+ countries will get it later!
Tags: Apple, Apple iPhone, iOS 5, iPhone 4, iPhone 4S, iPhone 4S launch, iPhone 5, iPhone 5 launch, new iPhone
The original article was titled "Robert Sloss predicted the iPhone in 1910″ but I found this to be bullsh*it, since iPhone still can't achieve many of the things listed therein. It's only fair to everyone that it should be titled this way!
Well, coming back; the article claims that in 1910, Robert Stoss published an essay called "The Wireless Century," intending to predict the world of 2010. In this world everyone carries around a "wireless telegraph" which:
1. Serves as a telephone, the whole world over.
2. Either rings or vibrates in your pocket.
3. Can transmit any musical recording or performance with perfect clarity.
4. Can allow people to send each other photographs, across the entire world.
5. Can allow people to see the images of paintings, museums, etc. in distant locales.
6. No one will ever be alone again.
7. Can serve as a means of payment, connecting people to their bank accounts and enabling payments (Japan is ahead of us here).
8. Can connect people to all newspapers, although Sloss predicted that people would prefer that the device read the paper aloud to them (not so much the case).
9. Can transmit documents to "thin tubes of ink," which will then print those documents in distant locales.
10. People will have a better sense of the poor, and of suffering, because they will have witnessed it through their device (not obviously true, at least not yet).
11. People will vote using their devices and this will empower democracy (nope).
12. Judicial testimonies will be performed over such devices, often from great distances.
13. People will order perfectly-fitting fashions from Paris; this guy should be in the Apps business.
14. Married couples will be much closer, and distance relationships will be closer and better.
15. Military targeting and military orders will become extremely precise.
Interesting eh? Anyway, don't know who's Robert Stoss? Google for it
Tags: iPhone, iPhone 4, Robert Stoss, Robert Stoss' prediction, smartphones
Filed under Tech, Visual Graphics & Images
iPhone 4, iPhone 4..the whole web has been in talks of it, ever since it was released. Everyone was very excited with the camera upgrade in particular. But how much does it live up to its hype? (in terms of Camera of course!)
Everyone has seen the individual pics posted on Apple's own site:
But no one has seen it directly compared to other rivals in the market. So, let's see this excellent comparison from the famous Fone Arena.
Now that's taken outdoors during the day. What about indoors/under low light?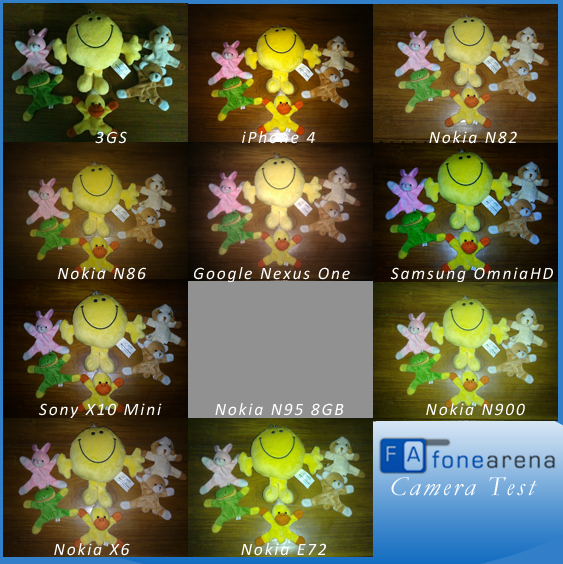 Oddly, the N95 isn't there.
Read the full review here. Fone Arena thinks the Nokia N82 still somewhat takes better pictures than the rest, despite being the oldest in the crowd. But to my eyes, the N95 isn't so bad too. The iPhone 4 on the other hand, seems to take images that are slightly oversaturated, and unnatural. The white balance also seems to be off. I think I need to test it myself, definitely, but from what we're seeing here, the images don't really live up to the hype of "It's not really about megapixels. It's about how big are the pixels." Nonetheless, it's still among the best out there.
Samsung Omnia HD is the worst of all, simply unnatural to the maximum. Nexus One is equally bad, but on the opposite side. The X6 and N900 seem to take similar photos. And E72 scores quite good too, but not very. As for the N86, I think the images go without saying, the megapixel still seems to count in picking up more details. And can you guys notice the difference due the wide-angle lens?
Tags: Apple, Apple iPhone 4, iPhone 4, iPhone 4 camera, iPhone 4 photo
Well I'm sure all of you would have read/heard of the iPhone 4 reception problems. So here are 2 ways to solve this (the funny way of course). Made my day!
Tags: Apple, iPhone 4, iPhone 4 reception problem
Filed under Tech
Well at least in this one single aspect so far known: built-in Wi-Fi hotspot, with support up to 5 devices at one time.
Though the 4.3-inch display (in the case of already-small smartphone displays, bigger is better), the Flash 10.1 support, DLNA streaming, and the Texas Instruments 1GHz ARM processor are nice, this one is probably something not seen on other mobile phones yet (seriously?). Verizon calls it 3G Mobile Hotspot.
Well actually it has not been seen natively on a phone. We've had this feature on some of the modern Nokia phones for some time now, but with a limited support of up to 2 devices, through 3rd party Apps of course.
Tags: iPhone 4, Motorola, Motorola Droid X
Filed under Tech
Apple's iOS 4 (formerly known as iPhone OS 4) goes live today, with the phone shipping tomorrow onwards. Steve Jobs have talked extensively about the new OS, but there are still a lot of things remaining unexplained. So what's so special about this new OS? Here goes a list of some 10 hidden features.
- Support for Bluetooth Keyboards
- Rotate and resize photos
- Wikipedia and Web search
- Switching off cellular data
- Orientation Lock
- App-specific location settings
- YouTube rotate and zoom
- Custom Dictionary
- Calendar events from e-mails
- Persistent Wi-Fi
Go get your update today!
Make sure you've got iTunes 9.2 installed, hook your phone up to your machine and click on update if it doesn't already prompt you to download iOS 4 for free. Then, sit back, enjoy and let us know in the comments if you've found a few touches of genius of your very own. If you're wondering why it's not available quite yet, it might be that we're all having to wait for Uncle Steve to get up and have his cornflakes first.
Tags: Apple, iOS 4, iPhone, iPhone 3GS, iPhone 4
Filed under Tech
Finally it's out! With Steve Jobs taking the stage again, everything was wonderful as they were meant to be. Well, put aside all the hiccups they had of course!
Now for the phone, which comes in five flavours, and with 32GB of capacity (max). iPhone HD comes with a 960 X 640 px really high-res IPS display, with the same old excellent multitouch feedback. Now for a bit of technical specs in short:
- Glass on front and rear with stainless steel running around the side. Uses stainless steel for strength, uses glass for optical quality and scratch resistance.
- Really thin at 9.3mm! (Thinnest smartphone on the planet)
- external features: volume up and down, mute, front facing camera. Micro-sim tray, Camera with LED flash on back, and mic, 30 pin connector, and speaker at the bottom.
- The black seams we have seen? Shows that the stainless steel band is the primary structure of the phone, "Brilliant engineering, uses band as part of Antenna system." One side is Bluetooth, WiFi, GPS, other is UMTS and GSM.
- Retina display! 4x as pixel density in same amount of space at 326 ppi, with 800:1 contrast ratio
- iPhone OS 4 – Apps automatically run full size but look even better because iPhone OS automatically renders text and controls in higher resolution, without developers doing any work.
- runs on Apple A4 chip – bigger battery plus A4 processor, 40% more talk time. 7 hours talk time. 6 hours of 3G browsing, 10 hours of WiFi browsing, 10 hours of video. 40 hours of music. 300 hours of standby.
- 32GB of storage, quadband HSDPA/HSUPA, and 802.11n now.
- a new hardware – Gyroscope! Gyro + accelerometer = 6 axis motion sensing. Rotation of 3D objects is smooth.
- Camera – 5MP (it's not about the megapixels says Jobs!) with backside illuminated sensor. 5x digital zoom in camera app and tap to focus with LED flash. Demo pics were very good. Video: 720p at 30 fps! Tap to focus video with built-in video editing and one-click sharing (Record, edit, and share HD video right on your phone).
- iMovie for iPhone! Just like the desktop version, only smaller. For for $4.99!
- iPhone OS is now called iOS 4!
- Multitasking, as we already know.
- Google will remain as default search option. Bing added as 3rd!
- iBooks coming to iPhone 4 (and iPod Touch).
- iAds.
- and many more!
Off the hook, 100 millionth iOS device will be sold this month! Congrats Apple.