Filed under Jokes
This is kinda funny, but not all are quite accurate, I should say.
Check out the rest at Heavy Comedy
Tags: Celebrities, Disney characters, funny, Jokes
Filed under Jokes, Youtube/Vimeo/Videos
[Warning: Obscenity precaution for the sensitive!]
As funny as it may sound, this weather channel in the US really was out of their mind. The cloud they designed looks like a giant penis!
Does this guy in the video realize it? Do the producers of the show realize it? We'll never know for sure. In any event, good work, Texas/Mexico border. Brain-numbing!
Tags: funny, humour, Jokes, weather channel, weather channel penis
Filed under Jokes
Well, this one's a funny take on the topic, by the famous xkcd guys. [Click to enlarge]

Tags: dating jokes, funny, humour, Jokes
Filed under Jokes
What's the quickest way to learn if your child is enrolled at a good educational facility? Answer: make sure they aren't attending the same school as the road contractor in North Carolina who was hired to paint this safety zone.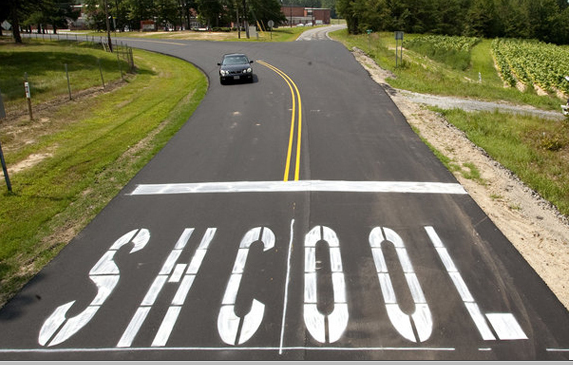 Source: Huffington Post
Tags: funny, Jokes, jumour, school jokes
There are plenty of other hilarious stuffs on this site too; check it out!
Tags: funny, humour, Jokes, love jokes
Filed under Jokes, Visual Graphics & Images
Filed under Jokes
Warning: Obscenity precaution!
Tags: animal jokes, animals & humans, funny, humour, Jokes
Filed under Jokes
Warning: Obscenity precaution!
I know the last one isn't cartoon, but hey, it's worth it still.
Tags: cartoon jokes, funny, humour, Jokes
Filed under Jokes
Here's a look at how dating might take place in the future. Funny..
Tags: dating jokes, funny, humour, Jokes
Filed under Jokes
Cabbies
A woman and her ten-year-old son were riding in a cab in New York City. It was raining and all the hookers were standing under the awnings.
"Mom," said the boy, "what are all those women doing ??"
"They're waiting for their husbands to get off work," she replied.
The cabbie turns around and says, "Geez lady, why don't you tell him the truth !? They're hookers, boy !!! They have sex with men for money."
The little boy's eyes get wide and he says, "Is that true, Mom ?!?"
His mother, glaring hard at the cabbie, answers in the affirmative.
After a few minutes, the kid asks, "Mom, what happens to the babies those women have ???" "Most of them become cab drivers," she said.
Oh To Be 12 Again…
A man was sitting on the edge of the bed, observing his wife, looking at herself in the mirror..
Since her birthday was not far off he asked what she'd like to have for her Birthday. 'I'd like to be twelve again', she replied, still looking in the mirror.
On the morning of her Birthday, he arose early, made her a nice big bowl of Coco Pops, and then took her to Alton Towers theme park. What a day! He put her on every ride in the park; the Death Slide, the Corkscrew, the Wall of Fear, the Screaming Monster Roller Coaster, everything there was. Five hours later they staggered out of the theme park. Her head was reeling and her stomach felt upside down. He then took her to a Mc Donald's where he ordered her a Happy Meal with extra fries and a chocolate shake. Then it was off to the cinema with popcorn, a huge Cola, and her favourite sweets….M&M's. What a fabulous adventure!
Finally she wobbled home with her husband and collapsed into bed exhausted. He leaned over his wife with a big smile and lovingly asked, 'Well Dear, what was it like being twelve again?'
Her eyes slowly opened and her expression suddenly changed. 'I meant my dress size, you retard!!!!'
The moral of the story: Even when a man is listening, he is gonna get it wrong.
Doctor's Advice
A woman, beaten black and blue, goes to the doctor.
Doctor: "What happened?"
Woman: "Doctor, I don't know what to do. Every time my husband comes home drunk he beats me to a pulp."
Doctor: "I have a real good medicine for that. When your husband comes home drunk, just take a glass of sweet tea and start gargling with it. Just gargle and gargle."
Two weeks later the woman comes back to the doctor looking fresh and reborn.
Woman: "Doctor, that was a brilliant idea! Every time my husband came home drunk, I gargled with sweet tea. I gargled and gargled, and nothing happened!"
Doctor: "You see how keeping your mouth shut helps?"
Tags: cab jokes, funny, humour, husband-wife jokes, Jokes